Soccer Basics Training Program for Kids in Panama City Beach
Are you looking for a fun and affordable way to get your child involved in sports? What if you could also build their confidence and help them learn new skills?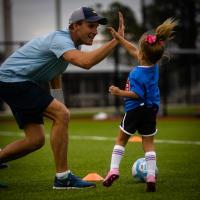 The kid's soccer program we offer here the Panama City Beach Sports Complex could be the perfect fit.

It's no secret that playing sports helps your child grow more confident in their abilities. Our kid's soccer program does much more than just improve your child's motor skills. It also gives them a passion for sports and an active lifestyle from a young age. As a parent, this really is one of the very best ways you can set your child up for future success.

For decades, studies have shown that children who take part in youth sports perform better academically as well as developing vital social skills. So your child stands to gain so much more than just soccer skills. That's where we come in.

Set your child up for success while teaching them the fundamentals of soccer, in a safe and fun environment. Giving your child the opportunity to train in our state-of-the-art, World-class facility is an incredible opportunity that Panama City Beach families have not had before now.

We are located right on your doorstep, at 50 Chip Seal Parkway. This puts us within easy reach of everybody living on either side of the Hathaway Bridge. With plenty of parking, on-site concessions and restrooms we have everything you need right here.

One of the many reasons we are so proud to offer our kids soccer program, is that there are so few youth training programs for parents living on the beach or in Panama City.
The Start Smart Soccer training program that we use is designed for 3 year old's, 4 year old's and 5 year old's. The goal is to prepare your child for competitive soccer while making sure they have fun, and feel supported the entire time.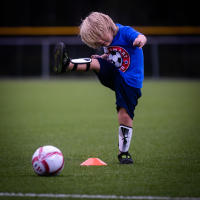 One of the key reasons this program works is that we give you the skills needed to coach your child. Throughout your kid's life, you will always be their biggest cheerleaders. Supporting them through everything they do and encouraging them along every step of the way.

There's nobody better than you to encourage your child while learning soccer. You'll be there to celebrate their wins and motivate and encourage them while they learn new skills.
As the program progresses and your child shows improvement, the exercises change to make sure they stay challenged and keep learning. That also allows you to coach at your child's pace so they'll never feel pressured. The program works because your child feels completely comfortable and has fun the entire time.

It's never been easier to register your little one for a soccer program designed specifically for their needs.

Panama City Beach Sports Complex Youth Soccer Program:
Play in a State of the art, World class sports complex in your own back yard;
Affordable six-week program;
Learn in a safe and fun environment;
Easy to access complex;
Learn how to properly teach and support your child while spending quality time together.

You can find out more about the youth soccer program on offer at the Panama City Beach Sports Complex by visiting our website at www.playpanamacitybeach.com and clicking on Leagues / Programs. There, you'll find all the information you need to register your child.

There's very little that excites us more than having the opportunity to enrich the lives of the community we serve. That's you...

Signing up and reserving your spot is easy, and only takes a few minutes. We hope to see you and your little one out here soon!
https://www.playpanamacitybeach.com/leagues-programs/youth-start-smart-soccer/