PANAMA CITY BEACH, Fla., January 6, 2022– Visit Panama City Beach is excited to announce a new collegiate event at Panama City Beach Sports Complex this spring.  The Visit PCB NJCAA College Baseball Classic will be taking place February 4-6, 2022 and features the best programs in National Junior College in a 16 team tournament.  Hosted by Gulf Coast Community College, the event will feature ten teams that were either top 25 last year or preseason top 25 this season.  
Teams committed include 2022 preseason No. 1 team San Jacinto (Houston, Texas), 2021 National Champions McLennan CC (Waco, Texas) and 2021 No. 1 team Wabash Valley from Mt. Carmel, Ill.  Seven Florida schools will compete, including Chipola Community College (Marianna, Fla.), Gulf Coast State College (Panama City, Fla.), Northwest FL State (Niceville, Fla.), State College of Florida (Bradenton, Fla.), Miami Dade Community College (Miami, Fla.), Florida SouthWestern State (Fort Myers, Fla.) and St. Johns River (Orange Park, Fla.). All games will take place on the new AstroTurf fields at PCB Sports Complex managed by Sports Facility Management.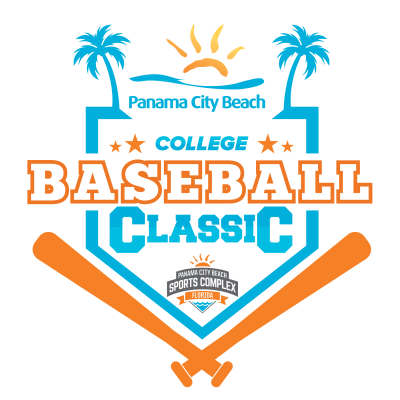 "With programs coming in from Texas, Alabama, Louisiana, Illinois, South Carolina, and Georgia, we are looking forward to some incredible early season matchups in one of the toughest fields assembled in NJCAA ranks."  States Gulf Coast Director of Athletics Mike Kandler.
"When we built this complex this was just the type of college event we were looking to develop and host in the destination. We're excited to bring together this tournament hosted by Gulf Coast State College in conjunction with NJCAA and Perfect Game which adds a whole new level to the tournament." said President and CEO of Visit Panama City Beach, Dan Rowe. 
The sixteen team bracket will start Friday Feb 4, with Championship game Feb 6; tickets are available at $10 per session or $25 for the tournament.  The largest baseball scouting organization, Perfect Game will serve as the official scouting and media coverage partner for the event. PerfectGame.TV will produce multiple games throughout the weekend with long-time MLB Play-by-Play Daron Sutton leading the coverage. PG's JUCO Baseball and MLB Draft team of Brian Sakowski and Colton Olinger will lead the scouting coverage on the website and social media as well.
Major League Baseball scouts and Division 1 College coaches will all be attendance as these NJCAA programs have produced some of the best players in the Nation.  The MVP of the event will be named after Legendary 324 game winner Hall of Famer Don Sutton who pitched at Gulf Coast Community College.
"We can't wait to be part of this inaugural event with such an elite field of teams.  It really has some of the very best college baseball teams in the country. Combine that with this fantastic facility and welcoming community like Panama City Beach, it's surely going to be a memorable weekend and really put it on the map for years to come."  says Perfect Game Vice President of Operations, Taylor McCollough. 
2022 TEAMS
Gulf Coast State College, Panama City FL 
Chipola Community College, Marianna FL 
Northwest FL State, Niceville FL
State College of Florida, Bradenton FL
St. Johns River State College, Palatka FL
Florida SouthWestern State, Fort Myers, FL
Miami Dade CC, Miami FL
Andrew College, Cuthbert, GA           
Florence Darlington Technical College, Florence SC
McLennan Community College, Waco, TX
San Jacinto College, Houston TX
Wabash Valley, Mt. Carmel, IL
Wallace Community College, Dothan, AL 
Wallace State, Hanceville AL
Chattahoochee Valley CC. Phenix City Alabama
Delgado Community College New Orleans, LA
Notable Major League Baseball Alumni
Gulf Coast State College - Don Sutton, Terrance Gore, Will Smith, Curt Leskanic
Chipola CC -  Jose Bautista, Russell Martin, Edwin Alicea, Adam Duvall   
NW FL State - Jeff Farnsworth, Jason Michaels, 
State College of Florida - Jody Reed, Ron Washington, Johnny Grubb, Glenn Davis, Alex Cole, 
St Johns River State College - Howie Kendrick, Nathaniel Lowe
Florida SouthWestern State  - Joel Pineiro 
Miami Dade -Mike Piazza, Raul Ibanez, Bucky Dent, Mickey Rivers, Jaime Navarro, John Cangelosi   
McLennan Community College - Jay Buhner, Craig McMurty, Chris Martin
San Jacinto TX - Roger Clemens, Andy Pettitte, David Rollins
Wallace State Hanceville - Craig Kimbrell, Derek Holland 
Wallace Dothan – Mackey Sasser 
Chattahoochee Valley -Tim Hudson, Danny Cox, Chuck James
https://www.playpanamacitybeach.com/upcoming-events/college-baseball-classic/
For general images of Panama City Beach, visit https://bit.ly/2AqNp5g. 
About Panama City Beach
Panama City Beach is situated on 27 miles of sugar-white sand beaches bordering clear, emerald-green waters where the Gulf of Mexico and St. Andrew Bay converge. With  attractions such as St. Andrews State Park and Pier Park, the region has long been favored by travelers seeking an affordable beach vacation with year-round offerings for families, couples, groups and adventure-seekers. These include championship golf courses, spas, sporting events, award-winning dining and diverse recreational activities. In addition, Panama City Beach's Northwest Florida Beaches International Airport offers non-stop flights on Delta Airlines, Southwest Airlines and United Airlines. For more information, call 850-233-5070 or visit the official website of the Panama City Beach Convention and Visitors Bureau at www.visitpanamacitybeach.com. Stay connected with Panama City Beach on Twitter (@Visit_PCB), Instagram (@Visit_PCB) and Facebook (@VisitPanamaCityBeach).
About Visit Panama City Beach
Visit Panama City Beach is the official destination marketing organization for Panama City Beach, Florida. The award-winning organization has earned industry accreditation (DMAP) from Destinations International, the world's leading authority in destination marketing, and exists to drive economic opportunity, job creation, community sustainability and quality of life for its residents through marketing, promotion and stewardship of the destination's REAL.FUN.BEACH. brand and attributes, tourism development, special event production, and managing beach re-nourishment and maintenance programs. 
Perfect Game

National Junior College Athletic Association

Panama City Beach Sports Complex/ Sports Facility Management
https://thesfnetwork.com/sports-facilities-management/
Media Contacts:
Michael Booini / Jamie Cox                      Chris O'Brien / Lacee Rudd
Sports Facility Management                     Panama City Beach Convention & Visitors Bureau                   
850.481.7529                                            850.890.7738 
mbooini@sportsfacilities.com                   cobrien@visitpanamacitybeach.com