Adult Softball League
The state-of-the-art Panama City Beach Sports Complex built in 2019 is excited to offer an adult softball league. We are inviting everybody who wants to play in a fun adult softball league to join us! We are committed to making this the most fun adult softball league in Panama City and Panama City Beach!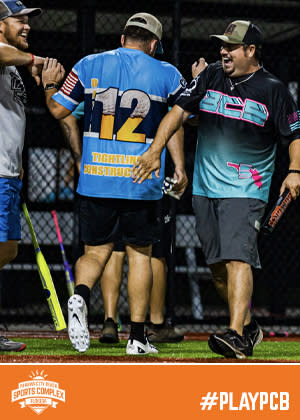 We realize there is already an active softball community here in Panama City with some incredible talent. We're thrilled to offer people already playing in a softball league yet another night of the week to play and get together with friends and teammates.

We're excited to see the community build teams with friends, co-workers and family and join us weekly for a season of exciting and competitive adult softball! It's a great way to stay physically active, and have fun outside of work and home.

Panama City Beach has never had a state-of-the-art sports complex before. Now that we're located right on your doorstep, we want to give you the opportunity to come out and play with us!

The new Sports Complex is conveniently located just off back beach road at 50 Chip Seal Parkway. This puts us within easy reach, no matter which side of the Hathaway Bridge you live. With plenty of parking spaces, on-site concessions and restrooms we have everything you need right here.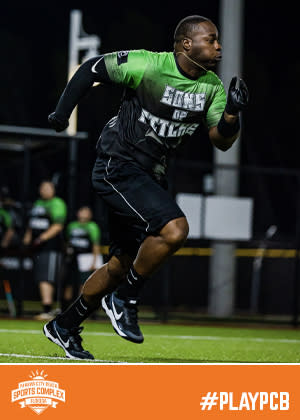 One of the many things that sets us apart from other softball leagues in the area, is our 9 Astroturf fields. Enjoy true hops, and a much faster and consistent playing surface. Plus, all that mud from grass and clay fields is a thing of the past, and games here won't get rained out. Bunts, slaps, and bounces play like they should, making it a much more exciting game.

We're excited to open our World class sports facility up to local adult teams. The Sports Complex was built to host huge tournaments from all over the country, but we also want the community to come out here to enjoy it with us.

The softball league at the Panama City Beach Sports Complex guarantees all teams a minimum of 12 games plus one 90 minute practice for each team every week. Most weeks each team will get to play two games per night.  All teams get to play in an end of season single elimination tournament at the end of the league.

We also provide professional umpires for all games. That way you don't need to worry about keeping score or making difficult calls. All you need to worry about is warming up and stretching enough before your games!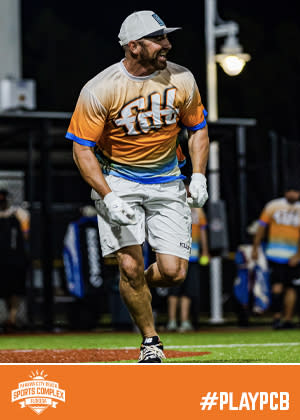 There is a team registration fee due at the start of the season. A great way to reduce the cost per-player is to build a bigger team. Although we always price registration so that it's accessible and open to everybody. Prices may vary by season, so to check the current registration fee, please visit our site (link below).

Team registration covers facility use and umpires. Plus all players on the winning team gets a special commemorative T-Shirt at the end of the league. But it's not really about the T-Shirt… It's all about the bragging rights.

The softball league is a great way to bond outside of work and stay active. So no matter where you work, let's find out once and for all, who the greatest adult softball team in all of Bay County really is!

Take a look at our Adult Softball Page page and take the next steps... Then all you need to do is register your team.